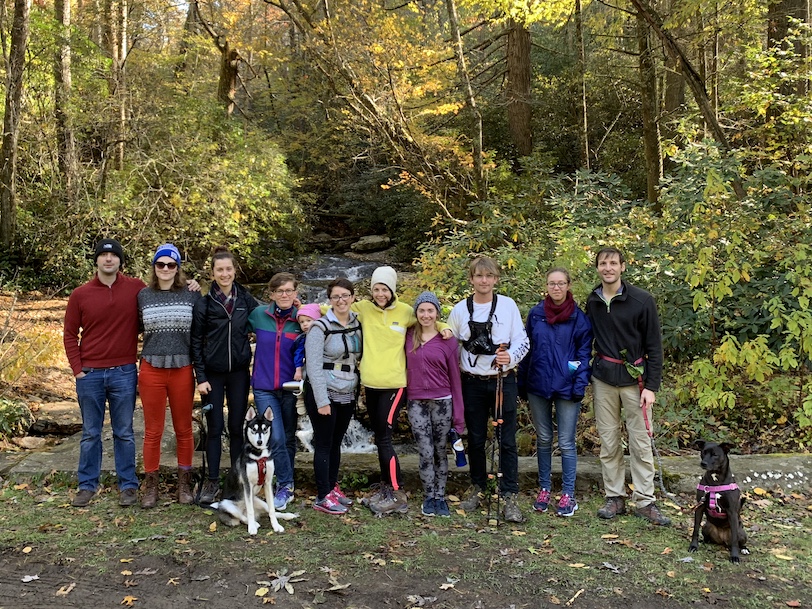 BLAB retreat, Fall 2018
---
Photo credit:
Zachary T. Kern

Dr. Elika Bergelson
Principal Investigator

Dr. Bergelson is an Assistant Professor in Duke's Department of Psychology and Neuroscience (personal page). Dr. Bergelson received her PhD from the University of Pennsylvania, where she first became interested in infant word-learning, after receiving research training at the University of Maryland as a Baggett Fellow, and a B.A. at NYU in Language and Mind. Her training is in psychology, linguistics, and cognitive science. Before coming to Duke, she was a Research Professor in the University of Rochester's Brain and CogSci Department. Dr. Bergelson's work has been funded by the NSF and NIH; she is the recipient of an NIH Early Independence Award and an NSF CAREER Award. Dr. Bergelson thinks figuring out how babies learn language is just about the coolest question out there.

Photo credit:
Vitaly Bergelson

Dr. Federica Bulgarelli
Postdoctoral Researcher

Federica finished a PhD in Cognitive Psychology and Language Science from Penn State University (personal page). She is interested in how learners figure out what to do with variability stemming from different sources in their environment, such as different speakers or different languages. Federica also loves baking and traveling.

Dr. Stephan Meylan
Postdoctoral Researcher

Stephan splits his time between the Bergelson Lab and the Computational Psycholinguistics Lab at MIT working on computational models of language acquisition and language processing (personal page). He recently completed a PhD in the Computational Cognitive Science Lab at UC Berkeley, focusing on how to represent adults' and children's abstract knowledge of language with probabilistic graphical models.

Dr. Carla Fernandez
Postdoctoral Researcher

Carla graduated from Penn State with a PhD in Cognitive Psychology and Language Science. She is interested in language processing differences in response to speaker variability. She is also deeply interested in the neural correlates of vocabulary acquisition in infants. In her free time, Carla likes to watch tennis and go on hikes with her family.

Charlotte Moore
4th year Graduate Student

Charlotte received a B.A. in psychology and linguistics from the University of Ottawa, and went on to do her Master's in Linguistics at the same university, continuing work she began as an undergrad on speech perception in toddlers. She is currently completing a PhD in developmental psychology at Duke. Charlotte is interested in how babies learn the sounds of their language, and how knowledge of those sounds helps them learn their first words. She also loves biking and knitting, and always reads the book before she watches the movie version.

Shannon Dailey
3rd year Graduate Student

Shannon is a PhD student studying developmental psychology. She graduated from the University of Pennsylvania in 2015 with a major in psychology and a minor in music. She began working with Dr. Bergelson in 2015, first as lab manager on the SEEDLingS team at the University of Rochester, and then as the BLAB manager at Duke. Shannon's hobbies include cooking, playing music, and complaining about how hot North Carolina is.

Erin Campbell
2nd year Graduate Student

Erin graduated from Towson University in 2018 with a B.A. in speech language pathology, deaf studies, and disability studies. She is currently completing a Ph.D. at Duke in Cognition and Cognitive Neuroscience. Erin wants to better understand language processing and acquisition for children with sensory impairments. In her free time, she enjoys rock climbing, yoga, smiling (recreationally), and embroidering pictures of bugs.

Aahnix Bathurst
Project Coordinator

Aahnix graduated from Amherst College in 2019 with a B.A. in German. He would sneak over to Umass Amherst to take lingusitics courses nearly every semester. Aahnix likes singing, exploring the outdoors, singing while exploring the outdoors, wordplay, Pokemon Go (yes, even now), playing sports, and Settlers of Catan.

Irene Tang
Lab Manager

Irene graduated from Swarthmore College in 2019 with a B.A. in Linguistics and Computer Science. She hopes to pursue linguistic fieldwork and work on language revitalization efforts alongside communities experieincing language loss and attrition. Irene also enjoys hiking, taking photos, drinking water, and roadtrips.

Sarp Uner
Lab Technician

Sarp is a Turkish programmer. He came to Duke as an undergrad and studied computer science and psychology. He worked for a while in Durham as a programmer and is super excited to join BLAB where he can combine his academic interests. Sarp also likes to dance and sometimes pretends to play the drums.

Jessica Marlow
Research Assistant

Jessica is a senior majoring in Global Health and Asian & Middle Eastern Studies, concentrating in Chinese, with a minor in Cultural Anthropology. She is interested in the role of parent-child interactions in child development as well as bilingualism. In the future, Jessica hopes to work in international development, advancing health and well-being for mothers, infants, and children. During her free time at Duke, you might find her enjoying the sun in the gardens, attending a yoga class, or doing some botanical line drawing on the BC plaza.

Junette Yu
Research Assistant

Junette is a senior studying Neuroscience & Linguistics and doing a certificate in Marine Science & Conservation Leadership. She is interested in the intersection between multilingualism and the ever-fascinating brain, and also dabbles in learning about cetacean vocalisations. Junette likes travelling, reading, walking and being anywhere near the sea.

Sarah Yang
Research Assistant

Sarah is a senior majoring in Psychology and minoring in Neuroscience and Global Health. She is interested in developmental psychology and how children adapt to and interact with the complex world around them. She hopes to continue her studies in either developmental or clinical psychology as a graduate student. Throughout the week, you may find Sarah studying in the library, rehearsing with her dance organization Defining Movement, or teaching Sunday School at her church. She loves flowers, reading, and baking.

Georgia Price
Research Assistant

Georgia is a sophomore at Duke, studying Linguistics, Public Policy, and Cultural Anthropology. She is interested in researching language acquisition, especially in multilingual children, and the relationship between language and music. Her life goal is to become a polyglot. Outside of classes, she is a mentor at the Kenan Institute for Ethics Launch Lab Program, a member of the Duke Chorale, and a proud swim team coach. She loves live music, crossword puzzles, exploring new restaurants in Durham, and painting at the Arts Annex with friends.

Janani Ramadurai
Research Assistant

Jen is a sophomore at UNC double majoring in Linguistics and Neuroscience and minoring in Computer Science. She is most interested in understanding how children acquire language and hopes to apply that knowledge to speech therapy in the future. In her free time, Jen loves to spend time with her friends and family, read books, and play music.

Jing Liu
Research Assistant

Jing is a sophomore majoring in psychology and statistics. She is interested in how children acquire their first words and categorize them into their existing network of knowledge. In general, she is just fascinated by how things she learn in her psychology courses can be applied to the real world. Jing enjoys playing flute, watching C-drama, chewing on boba, and secretly psychoanalyzing those around.

Lauren Mitchell
Research Assistant

Lauren is a sophomore at Duke studying neuroscience, computer science, and global health. She is most interested in understanding how early experiences shape cognitive development and language acquisition in multilingual children. Here at Duke, Lauren is a GANO tutor, WISER club member, and a FEMMES Connect mentor to young girls interested in pursuing STEM fields. Outside of school, she loves baking, trying new restaurants with family and friends, listening to true crime podcasts, and attempting to train her Mini Aussie, Bear.

Madeleine Yancy
Research Assistant

Madeleine is a sophomore at Duke, where she plans to double major in Psychology and Global Health. She is interested particularly in how children's environments and interactions affect their language development, and how that changes for children with learning disabilities. After undergraduate, she plans to attend medical school. Here at Duke, she is a Baldwin Scholar, as well as the Afterschool Program Director for FEMMES. She likes to run, bake, read, and eat anything chocolate in her free time.

Olivia Leggio
Research Assistant

Olivia is a sophomore majoring in linguistics and planning on minoring in computer science or psychology. Outside of school she plays in the marching band, fences, daydreams about making bread, and highkey wishes she could go to culinary school at the same time as regular college.

Sophie Hurewitz
Research Assistant

Sophie is a sophomore at Duke, where she plans to study either Psychology or Neuroscience and pursue the Child Policy Research Certificate. She is extremely interested in how children develop language, as well as how young children learn to communicate with others in conversation. She is also interested in how babies and toddlers with various developmental disabilities acquire language. She is planning on going to medical school to become a pediatrician! Sophie also loves working with older children, whether it be through tutoring, mentoring, or being a camp counselor during the summer. Here at Duke, she is also a Baldwin Scholar and an America Reads America Counts tutor. She loves to go to the beach, binge watch TV shows, and is always hungry for a great pizza.

Halden Levin
NCSSM High School Research Assistant

Halden grew up in Pinehurst, North Carolina and is now a senior at the North Carolina School of Science and Mathematics. Her passion for language fueled by her Chinese language-learning journey, poetry recitations, and experiences with her older brother and his disability, spastic quadriplegic cerebral palsy, have led Halden to develop an interest in the process of language acquisition, particularly in children with speech impairments. In college, Halden plans to double major in Anthropology with a focus on Global Health and Neuroscience with a focus on Child Development, as well as minor in Chinese Language and Culture. In her free time, Halden loves to run, bike, plank, read and write poetry and Chinese, play boccia with her older brother, and experiment with oatmeal.
Lab Alumni (Where I am now)
Hallie Garrison, lab manager, 2017-2019
Gladys Baudet, lab technician, 2018-2019
Estelle He '20, programming research assistant, 2016-2019
Webster Bei '20, programming research assistant, 2016-2019
Meghan Beck, co-op visiting research assistant, 2019
Danielle Mayorga-Young '19, research assistant, 2017-2019
Chandler Richards '19, research assistant, 2017-2019
Katya Khlystova '19, research assistant, 2017-2019
Emma Zhang, NCSSM high school research assistant, 2018
Natasha Derezinski-Choo '18, research assistant, 2016-2018
Micaela Brewington, research assistant, 2016-2018
Naseem Dillman-Hasso, summer research intern, 2018
Natasha Vernooij, summer research intern, 2018
Ellie Breitfeld, summer research intern, 2018
Savanna Groft, research assistant, 2016-2018
Erich Hess, high school research assistant, 2018
Andrei Amatuni, lab technician, 2015-2018 (PhD student at Indiana University in the Department of Psychological and Brain Sciences)
Afua Ansah, research assistant, 2016-2018 (Ohio-Illinois District Youth Assistant Secretary, Presbyterian Church of Ghana)
Angela Tawfik, research assistant, 2017-2018 (Senior Research Fellow at Duke University)
Reena Jasani, research assistant, 2016-2017 (Medical Student at The University of Texas Southwestern Medical School)
Alexis Aberman, high school research assistant, 2017
Maia Donald, high school research assistant, 2017
Kelsey Shelofsky, research assistant, 2017 (Clinical Research Coordinator at Massachusetts General Hospital, Dept. of Neurology)
Claire Patrick, high school research assistant, 2017
Dr. Catherine Laing, postdoctoral researcher, 2016-2017 (Lecturer in the Centre for Language and Communication Research at Cardiff University, Wales)
Emmaline Drew, graduate practicum student, 2017 (Doctoral student in cognitive psychology at Duke University)
Hannah Ballock, research assistant and independent study student, 2016-2017 ()
Ryan Bloom, programming research assistant, 2017 (Associate Consultant / Software Engineer at Levvel.io)
Nick Groszewski, programming research assistant, 2017 (Senior Associate Data Engineer at Capital One)
Liwen Zhang, programming research assistant, 2016-2017 (Data Scientist at GM Financial)
Cristopher Alvarado, high school research assistant, 2016 (Biomechanics Lab Reseacher at University of Sydney)